Releasing into the wild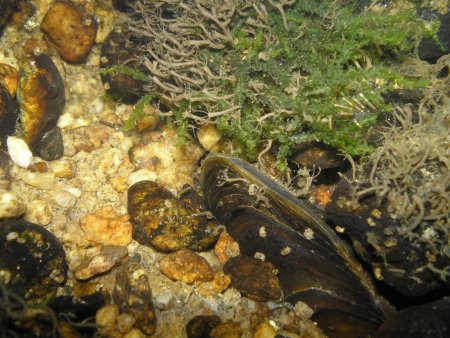 Clean, well structured substrate including an adult freshwater pearl mussel
Releasing juvenile mussels into the wild helps to support existing mussel stocks. In order to ensure the highest possible degree of settlement success after several years of rearing, the release of the juvenile mussels must be systematically prepared. Potential release sites must be found ahead of time and their suitability as a mussel habitat must be evaluated according to the following abiotic criteria:
Substrate structure: the structure of the riverbed
Substrate stability: the stability of the riverbed
Water quality: physico-chemical properties, e.g. oxygen content, pH value, nitrogen concentrations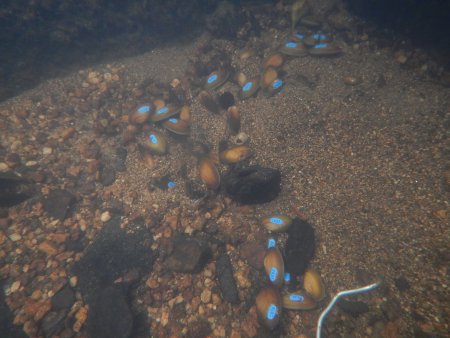 Marked juvenile mussels in their natural habitat
If the abiotic parameters of a potential release site meet the needs of the juvenile mussels, biotic parameters are then also included in the evaluation:
Host fish stocks
Proof of recent mussels or bioindication with juvenile mussels
Once the juvenile mussels have begun filter feeding and have a shell length of > 1 cm, they can be transferred to defined areas within the suitable release sites.
Intensive monitoring is required, especially during the period just after the juvenile mussels have been released. The success of the release and the establishment of the juvenile mussels on the sites are documented by means of regular checks. So that this can be done accurately, the mussels are marked with tags.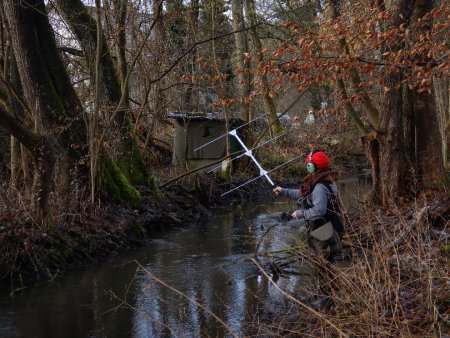 Mussel search with radio telemetry
Each mussel receives a coloured "shellfish tag", a small coloured disc which has an individual, clear number on it. Depending on their stage of development, certain individuals are equipped with so-called "telemetry tags" so that they can be tracked in the water.
With radio telemetry, the tags actively send a signal that can be tracked with an antenna and can be used to determine the precise location of the mussels. This marking also serves as a means for finding parent animals that have been used for breeding in the water at any time.
With PIT tag telemetry, smaller "passive tags" are used. So-called PIT tags (Passive Integrated Transponder Tags) send a signal by means of an electromagnetic impulse triggered by a transmitter antenna. These tags do not need an energy source and therefore have a long lifetime. They are primarily used to validate the resettlement of juvenile mussels. By searching a section of water in a targeted way with the antenna, buried mussels can be tracked down and the substrate does not get disturbed.